Last week a thing happened, and I feel.
The problem with words is, we talk too much. They get overused and shabby, and when you really need them to say something they're worn out and not up to the job.
But something happened, and I must tell, and words are what I have.
Where to begin? I'll start with this text from the Hubbit, received while I was at a writer's conference in Seattle in September. That's as good a place as any.
"Scarlett died unknown causes. Suspect the food as several dogs don't wanna eat it. Am buying new food."
There was also a photograph. If I hadn't read the text first I'd have thought she was sleeping.
Scarlett was one of our rescues … I've told you I rescue dogs, right? Kuja and I started a small group last year. So far we've rehomed around 75 dogs and 30 cats, and also helped owned pets that needed vet care, food, and so on. Anyway, Scarlett was a beauty. Her mother was a Belgian Malinois, daddy was a German Shepherd / Husky cross. She was the last pup left from an accidental litter, and when she came to me she was around eight months old and still didn't have a name. Her people hadn't been cruel to her, but they'd never wanted her, and it showed. She was pretty shut down, and I figured she'd be a good project for Peter Pan.
I've mentioned Peter Pan but never explained his place in the Took menage. He showed up several years ago with a teenage girl we knew. They pitched a tent in the backyard and all was roses for a day or two, then early one morning I saw her spinning her wheels as she roared down our driveway, and I went outside to find him forlornly folding his tent. That's when I learned he was homeless. He was just a boy – 22 years old, and had spent the years since he aged out of the foster system couch-surfing and drifting back and forth across the country.
Well, he stayed for a few days, which turned into weeks, then months, until he was ready to move on in spring of the following year. I was sorry to see him go and missed him – both the help around our farmlet and the laughs. He's high a lot, which makes him giggly; this annoys the Hubbit, who is sternly anti-weed, but amuses me. He showed up again a few months ago – I told you how happy I was to see him. Anyway, he took his puppy training responsibilities seriously. Scarlett didn't warm to him – she was a shy pup, easily scared – but I kept encouraging and advising him, and he kept her with him all day as he went about his work on the farm.
Then we took in Cairo, a a gangly, goofy Malinois pup produced by a backyard breeder who sold him then wouldn't take him back when the buyer changed his mind. (Mals are like velociraptors – not for the fainthearted.)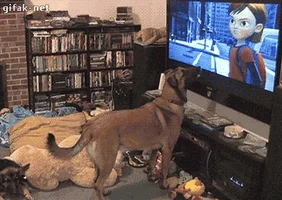 I already had my hands full with our other foster, Cojak, a German Shepherd designated "dangerous" that I've been rehabilitating. But it was no problem – it's as easy to play with two puppies as one, and I hoped Cairo would bring Scarlett out of her shell. Peter Pan started going around the farm with two puppies prancing around him. He got less farm work done but I was good with that; the dogs were more important.
It saddened me that that none of the dogs really liked Peter Pan. He tried so hard to win them over, coaxing and loving on them … I felt bad for him. It didn't help that Cairo got banged up in an encounter with one of the cows when he was out in the pasture with Peter Pan and got too close to her calf, and also both pups got badly stung by yellow-jackets while out in the shop with him. They were miserable, with their swollen faces and crusty, oozing sores, and they clearly blamed him for the hurt. I kept reassuring him and offering advice – "Don't force it – let him choose to come to you and then reward him" … "Don't try to bribe them; just let them know you keep treats in your pockets, and wait for them to come and ask" … "Give her space – she'll come to you when she's ready". My advice was good – it worked. Puppies love treats.
Then it was September, and the conference, and before I could go I had to process a pile of adoption applications for a commotion of chihuahuas we'd rescued from a hoarding situation. So I was distracted, and when Peter Pan mentioned that some of the dogs were off their food I didn't pay attention.
By the time I received the Hubbit's text he'd already buried her, and he flatly refused to dig her up again for a necropsy. (Yeah, I'm that wife. But I was right this time.) Peter Pan had found her just before she died, and when I spoke with him over the phone he sounded devastated. Cairo was also sick; they rushed him to the vet, where he went onto a drip and had a bazillion tests, all of which came back looking scary but inconclusive. We sent the food off to a lab to be tested, and I fantasized angrily about the costly vengeance I would wreak upon the manufacturer … but then those results came back negative.
Cairo had a series of follow-up visits with the vet, but remained a sad, sore, floppy puppy. X-rays revealed two broken ribs and a cracked vertebra – an ugly shock; my cows aren't friendly but they're not mean – it didn't make sense that she'd hurt him that badly. The vet prescribed crate rest and various medications, but there was a grim set to her jaw, a look in her eye that told me that, after more than ten years of taking my dogs to her, I had been judged and found wanting.
Cairo's misadventures continued. He snapped his lower left canine, revealing raw nerves, and developed a hematoma on his left ear. I didn't know how – snagged the tooth trying to break out of his wire crate? Hooked it in a bone and yanked it out with excessive force? (Everything a Malinois does involves excessive force.) Smacked the ear against something while playing too hard during one of his brief bouts of normal Malinois energy? It was strange and frustrating, but a broken tooth and a hematoma could be identified, diagnosed and fixed. My attention was consumed by more bewildering questions.
The vet noticed that he "walked funny". "There's something else going on with this dog," she muttered. Could he have panosteitis? His face was still swollen, the lesions on his nose weren't healing properly, and the lymph nodes in his throat were swollen. Could it be juvenile cellulitis? But when I tried to discuss it with her she wouldn't quite meet my eye. She suggested we hand him off to another, bigger, wealthier rescue, because we'd already run up a sizable bill, we couldn't afford all the diagnostics she wanted to do, and she wasn't offering any more discounts.
Back home the other dogs were doing well on their new kibble but Cairo wouldn't eat, so I started cooking for him – elk, home-raised eggs and veggies, home-made bone broth. He began to get better. I thought gentle exercise might help, so once again he was out with Peter Pan as he worked around our farmlet.
Then Destra collapsed. Destra is my girl – my first Malinois – an 11-year-old I've had since she was a puppy and came to us to recover from the injury that eventually cost her a hind leg. She has an inoperable thyroid tumor wrapped around her throat, so we've known for a while her time was limited. She threw up everything in her gut, but once that was done she wasn't in distress. She just wanted to sleep, wouldn't eat, and couldn't really walk. I googled "how to tell my dog is dying", and all the symptoms checked out. So I made her comfortable, kept her company, and left the care of the other dogs to Peter Pan. Eventually I snugged her up to a hot pillow and went to bed, expecting her to be gone by morning.
She wasn't. When I sat up in bed and looked at her, she was sitting up and looking at me, and she made it clear that getting her outside to do her business was my most urgent priority. (She didn't like to be carried but looked very regal in a wheelbarrow lined with blankets.) By the next day she was moving under her own power. I started feeding her the same food as Cairo, and she quickly recovered.
Reading over this I see that I've left out so much – but it's already too long. I just don't have the space to tell you about the cat Peter Pan found lying dead in the south pasture, or the three perfectly healthy hens that dropped dead without warning. I don't know if it's relevant that we brought home a Chihuahua mama and four puppies born by emergency c-section and two of the babies died. One was the runt but the other … I was sure he'd make it. But neonates die, after all – especially after a too long labor, when their mama is still exhausted and too stoned to keep them under the heat lamp.
And then there was Argos. I told you what happened to him. He survived that first night. A test for toxoplasmosis came back negative. The leptospirosis test needs to be confirmed but is a probable negative. Yesterday's follow-up with the eye specialist revealed that he's doing well. His eyes may recover fully, but if they don't … well, he's a Malinois; he'll figure it out. Only it makes me crazy that we have no idea what happened to him. We can run test after test, we can speculate about trauma, but we can't know.
And that's true for this whole horrible story. We can add 2+2 and pick a number. We can speculate, extrapolate, assume. But there's not a lot we can know.
Yes, okay … I skipped over the thing that happened last week. Fine. Let's end this.
I was out, and the Hubbit called and told me to get my ass back home because he'd just caught P beating Cairo. I passed P on the way home and my foot lifted reflexively from the accelerator. He looked so lonely, such a gangly, lost boy walking an empty road on a gray day. "I can take him into town, or to a friend – at any rate, someplace warm," I thought. "We can talk in the car. There has to be an explanation."
But then I let my foot drop back onto the accelerator pedal, because the truth is we'd started to wonder about him before that day. The Hubbit had never trusted him but held his peace until I confessed my fears. Then we'd found a private place and prayed together: "Lord, please reveal the truth, and give us the wisdom to know what to do." We'd borrowed a motion-activated infrared camera and hoped to borrow more, so we could monitor the house and workshop. I'd begun to watch him more closely with the dogs, intervening when they didn't want to go with him, feeding them myself rather than asking him to do it. I told Kuja, "It feels like we're cursed. Like there's something evil loose on our property. And really I'd rather encounter some Halloween-style ghost or ghoul than…" I didn't want to say it, but she knew. And she knows one doesn't abandon someone, whether they have four legs or two, without a clear and certain reason.
So anyway, the Hubbit and the Cool Dude walked into the house and heard Cairo screaming. They rushed to him and found that P had somehow folded himself inside the big wire crate to get at the puppy, who was crammed up against the far end. P was stomping Cairo with his army boots. He scrambled out, made some asinine excuse about Cairo having pooped in his crate (there was no poop, and anyway, what the fuck?)
That was five days ago. Since then, I've taken over most of P's chores. One of them was to put out food and water for the invisible barn cats and clean their litter box. I find they've gone from being invisible to not there at all. The food and water I put out is untouched, the litter box unused, and mice scurry boldly all over the shop.
On the other hand, Cairo has gone from being a sad, listless puppy to a wonderful lunatic, leaving a wake of destruction wherever he goes.
So that's what happened, and I feel ashamed that I didn't pay attention when Cairo and Scarlett tried to tell me they weren't safe. I feel stupid that I was so slow to figure it out. I feel betrayed. Sickened. Abused. Disillusioned. Angry.
I think of the lost boy that I thought I knew, that I thought I could trust, that I thought I could rescue, and I feel bereaved.

Let's talk. Have you ever trusted someone, and thought you and they were walking the same trail, only to realize the person you trusted may never have existed outside your imagination?