The problem with skunk spray is, once you have the smell of it in your nose, everything smells skunked.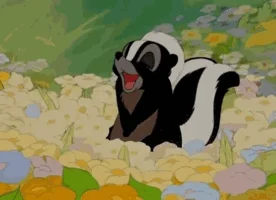 Take this morning. Around 3.00AM Argos woke me by blowing in my ear. Usually he just stands next to my bed and s.t.a.r.e.s at me while breathing softly on my hand. He's trained me well; even though I fully expect to sleep through the apocalypse, I faithfully stagger out of bed and let him out to do his thing while I bumble around in the dark until I find someplace appropriate to sit down and do mine. Then I let him back in and we go back to bed and the night continues as usual.
This morning, apparently, the need to go out was urgent, hence the ear treatment. And this time Flurry, the Hubbit's English setter, went too. A few minutes later I was in mid-bumble when the Smell wafted through the house. No wonder they'd been in a hurry to get out. We had a visitor.
I said something profane (I'm trying not to say fuck in here because it's tacky and unimaginative, so just apply the profanity of your choice – it'll work fine) and rushed to open the door. Argos and Flurry rushed into the house and rushed around in circles, Argos shaking his head vigorously. I said another profanity (or maybe it was the same one) and grabbed him, and got some kind of oily substance all over my hand. I kicked him outside and grabbed Flurry. By now my nose was well and truly skunked and I had no idea whether or not she'd been sprayed. I didn't feel any goop; however, full disclosure, it's possible that some of the goop on my hand was transferred to her. Or maybe not. I still didn't have my contact lenses in at that stage, and between skunk spray and three o'clock in the morning my senses may have been blunted.
This is my first actual encounter with a skunk, and I hadn't the faintest idea what to do. However, I'd heard that tomato juice came into play when one was dealing with a skunked dog. We do have some tomato juice, but what was one to do with it? Pour it over the dog? Throw the can at the skunk? Add vodka and swallow?
I woke the Hubbit, because this is what I do in moments of crisis. I didn't like waking him, mind you – not because it bothers me to disturb his beauty sleep (which doesn't work, by the way) but because I'm not speaking to him at the moment, owing to the fact that even the best of Hubbits is sometimes an asshole. That's all I'm going to say about that; I provide the information purely for context – which in this case is that I was sufficiently discombobulated to swallow my pride and ask for help.
The Hubbit started rambling about hydrogen peroxide, so I went off to look for some. More context: about six weeks ago when I was frantically trying to finish my novel before the PNWA writers' conference I realized that it was imperative that I reorganize all the pharmaceutical, toiletry and random shit supplies in the bathroom, so I emptied about half of them into boxes, which I dumped in the tub. I then realized that I was procrastinating, and went back to the book. So looking for hydrogen peroxide involved tipping out boxes and scrabbling through crap in the tub, while using profanities.
I found an old bottle that had about a half inch of very old (in other words no longer functional) hydrogen peroxide. While searching, it occurred to me that maybe I needed to empty the tub in order to wash Argos, and I was halfway through doing that when it occurred to me that one might not want skunk residue in one's personal bathroom. So I went to ask the Hubbit, who was still rambling about hydrogen peroxide and was pissy about being interrupted. I explained for the second or third time that we didn't have any profane hydrogen peroxide and what about tomato juice? He got more pissy and said the tomato juice thing was an old wive's tail, and started reading from an internet source on his phone that explained scientifically how hydrogen peroxide worked and why tomato juice didn't.
I headed out into the dark and windy predawn to find hydrogen peroxide. The Hubbit, ever helpful, texted me directions for how to use it when I had it, and went back to bed. I found some hydrogen peroxide at the little gas station store a few miles from our home, and bought up their entire stock. This is a country store; the assistant didn't even blink … and as I was leaving, with a completely straight face, she wished me a lovely day.
Back home, I set myself up in the only outside place that wasn't in the throes of a gale – the far side of our workshop. I mixed up the solution as directed and applied it generously to Argos, who explained that he didn't like that and would prefer me to stop, while yanking my arm out of its socket. The instructions said to let it stand for ten minutes, so I waited for fifteen then dragged him out into the gale and profanely hosed him off. I stuck my nose up close … relief; he no longer smelled skunky.
We went back inside and … oh my word. Gahhh!
Flurry was on the bed, cuddling with her daddy, and – now that my nose had had a chance to recuperate – it was clear that while she didn't get a direct hit, she definitely qualified as collateral damage. Well, she's the Hubbit's dog; he can deal with it. I don't care any more. My home will forever more smell of skunk, but it doesn't matter; my nose is now permanently disabled, which means I never again have to invite uninteresting people to dinner. (Interesting people, aka my kind, take the occasional whiff of skunkiness in stride.)
I'm going back to bed. You please have a lovely day on my behalf
Have you, or anyone near and/or dear to you, ever been skunked? Did the smell ever go away or did you happily adapt to life as a social pariah?